25 year video game industry lead game designer Chris Foster talks about functional feedback.
Through his 25 years in the industry, Game Designer Chris Foster has worked on music games during his time at Harmonix, on such games as The Beatles: Rock Band, Disney Fantasia: Music Evolved, Rock Band 4, and Rock Band VR.
One lesson from working with VFX creators that stands out relates to functional feedback. Now at Fire Hose Games, Foster continues to implement this practice.
VFX existed not just to make the game look beautiful or impressive, but to deliver vital, immediate feedback on the player's actions. Without these dynamic visual cues, players would feel less connected to and engaged with the gameplay. The presence of functional VFX was required to make players believe they were playing music – an essential step towards the joyful experience that these games deliver.
"I started to learn this on the Rock Band games" says Foster. "We were reviewing an early version of the guitar "note highway" for The Beatles: Rock Band – a new track built with period-appropriate flavor. I remember playing this version and wondering why it didn't feel like I was playing the music."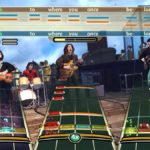 The star-shaped sparkles over each track in The Beatles: Rock Band are critical to making players feel like they're performing the sounds they represent.
Foster wondered if perhaps the audio for his guitar part wasn't loud enough, or if his strum inputs weren't registering. "We confirmed that the code and audio were working properly, and eventually realized the problem was that the particle effects for our new exploding note 'gems' weren't rising as high as in previous Rock Band games.
Players are always scanning the track 'into the future' above where they actually hit notes, meaning that if the visuals didn't rise into the space their eyes scanned, then the vital circuit between player input, audio response, and visual confirmation was broken."
It turned out the illusion of musical performance depended on something as simple as a properly calibrated bursts of particles. When players are so intensely focused on one one-screen location – aka highway hypnosis – the team at Harmonix found they had to make critical visual feedback louder and larger than they expected. "That's why the track surfaces and the entire screen edge flare red when a player is at risk of failure; anything more subtle gets ignored."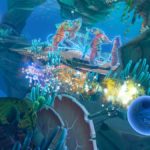 When Disney Fantasia: Music Evolved needed a crystal ball to act as the player's agent of control in the world, a host of visual techniques were applied to give it both charm and communicative power.
Sometimes it takes a suite of visual tricks to bind the player to gameplay, particularly when working with new technology. "In Disney Fantasia: Music Evolved, we had to make players feel like they were exploring and manipulating a magical world of music through an enchanted crystal ball. Fantasia utilized motion controls via the Kinect camera, and therefore we needed to make players feel in control of the other side of the screen without ever touching a physical controller.
"You truly appreciate the communicative power of touch – feeling a button depress or a stick move – once it's been taken away from you."
The Harmonix team compensated for the lack of tactile feedback by applying a host of visual techniques.
"We applied many of the twelve principles of animation (slow-in/slow-out, squash-and-stretch, staging, arcs, appeal, secondary action) to make that crystal ball feel like a playful extension of your hand – imbuing it with character through VFX."
Elsewhere, they needed a way for players to get consistent feedback about how to engage, progress, and complete magical transformations across dozens of bespoke contexts. "Applying a simple glow shader with a consistent intensity curve – spiking at the start and end, with a quick and obvious ramp – let us wrap wildly different interactions with a common visual vocabulary." They also used subtle deceleration in their camera movement to warn players when they were stepping out of camera range, transforming what could have a user experience failure ("why doesn't the game see me anymore?") into a teachable moment, expressed one frame at a time.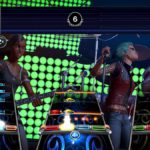 The rendering technology has improved, but the functional feedback in Rock Band 4 performs the same vital role as in previous games in the franchise.
Foster's most recent insights into the functional power of VFX came from working on prototypes and games for virtual reality, including Rock Band VR for the Oculus Rift. "I remember being shocked that if I leaned too close to an explosion, putting my real nose above the virtual smoke rising from it, then my brain would be fooled by the stereoscopic visuals, and for a split second I'd actually smell something burning. There is a visceral impact to virtual reality that provides much of its power, but demands players leverage that power with care." To help solve this, the tutorials in Rock Band VR feature floating arrows guiding the player's head to look at different locations on the guitar in their hands, and their subtle motion proved invaluable in leading players through the brand-new gameplay concepts "until a well-intentioned artist attempted to add flair to the arrow with dynamic bursts of squashing and stretching – and yes, puffs of smoke. The result was like having Tinkerbell constantly chucking firecrackers a foot from your face. What was perfect for traditional games became a flinch-worthy assault until we dialed back the result to a happy middle ground."
Even in games where the heart of the experience is what you hear, visual communication is essential to letting players feel like they've entered the game and have impact. Here are some takeaways based on Foster's experience:
When communicating vital gameplay information through visual effects, be attentive to where players are – and are not – looking.

Interactive VFX can add toy-like play to your game, drawing players into the deeper game experience.

When traditional means of connecting players to your game are gone, look for non-traditional means of visual communication, such as reactive camera movement.

In VR, visual effects can have unintended, visceral consequences, so be careful with what you flash near their heads (or under their noses!).
Game creation is a collaborative process, and Designers guide that creative vision, but "design means nothing on its own" says Foster. "It's all about what the players experience – the code that is written and the art that's produced. Visual Effects are a big part of that. With the games I've worked on, I've learned that one of the most powerful ways a Designer can speak to an audience is through visual effects and applying them through functional feedback."
About The DAVE School
The DAVE School was founded on June 8, 2000 by two Industry executives looking to create #CareerReady artists with a practical animation school. Today, The DAVE School offers specialized training in Visual Effects and Game Production with extensive practice under industry level supervision.
Located on the backlot of Universal Studios Florida® in Orlando, The DAVE School has an 18,000 square foot facility that includes learning and interactive labs, a dedicated Virtual and Real-Time production stage, a Vicon motion capture system, 3D printing and VR/AR labs and secure student access 7 days a week.
NUC University (NUC) is an accredited institution and a member of the Middle States Commission on Higher Education (MSCHE) www.msche.org. NUC's NUC University – IBC Technical Division (NUC-IBC), NUC University – Florida Technical College (NUC-FTC), and The Digital Animation & Visual Effects School (The DAVE School) is included in this accreditation. NUC's accreditation status is Accreditation Reaffirmed. The Commission's most recent action on the institution's accreditation status on 2019 was to reaffirm accreditation. MSCHE is an institutional accrediting agency recognized by the U.S. Secretary of Education and the Council for Higher Education Accreditation (CHEA)