Dreaming big at the DAVE School has paid off for Writer/Director Matt Killian and Producer Angel Gonzalez. Their short film The Dream Catcher has received not one but two Regional Emmy nominations, one for Graphic Arts/Animation and one for Director.
Written by Renee Dunlop
Turning Nightmares Into Dreams
"The project was born out of necessity," says Killian. "You know the saying: when life gives you lemons, make lemonade. It came out of losing another project that got pulled at the last second. We had to do a quick turnaround to have something for the students to work on, had to do a lot of filming." Killian put his idea on paper over the course of a single weekend, a concept about a toy who was protecting his child from a dark force.
"From the minute he showed me the animatic, it grabbed me," responded Gonzalez. "I immediately fell in love with this project, the story and everything." Gonzalez took the role of Producer, and set about tracking the budget, keeping the project on schedule and "being his little Jiminy Cricket on his shoulder asking, how are we doing, what are we doing today? I helped him a little with creative — not the idea itself, but bouncing ideas off him. I enjoyed it, especially for this project. But it was all his baby, top to bottom."
"I immediately fell in love with this project, the story and everything."
Angel Gonzalez – Producer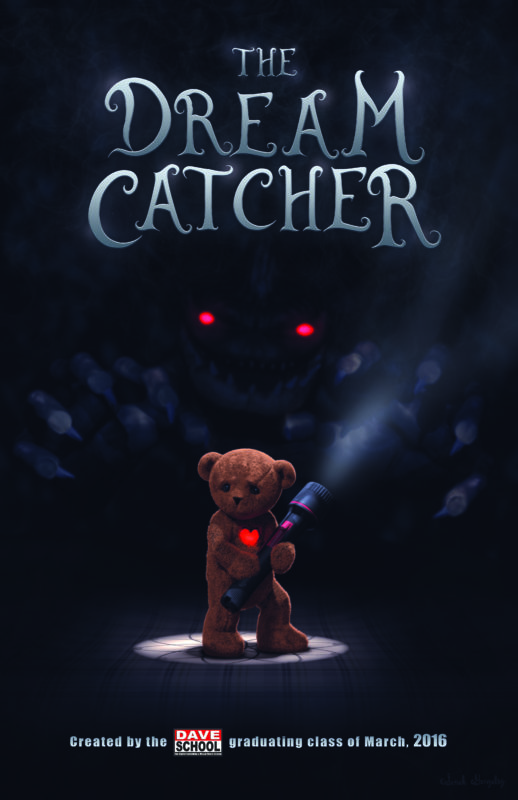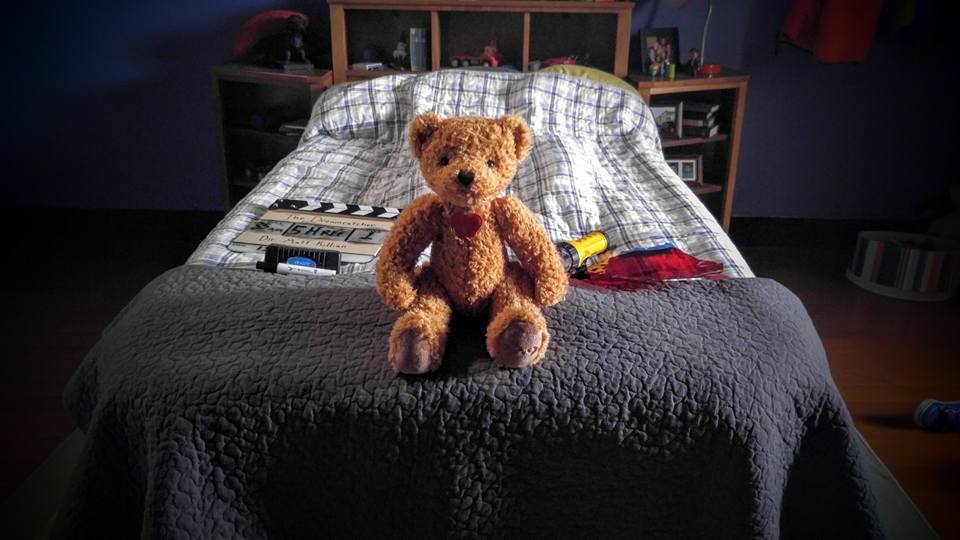 From there, the story of the Dream Catcher evolved naturally, with the help of DAVE School students and local Orlando professionals via the schools frequent collaboration with outside studios. DAVE School's Marketing Manager Jodie Beckstine, assisted Gonzalez in setting up a meeting with Wonderland Creative Group, based in Orlando. "They were pros, and we developed a really good, really cool relationship," says Gonzalez.
Killian agreed. "This production could not have happened without Wonderland Creative Group, the team who oversaw the live action filming." Killian also praised former Disney Animator / Director Aaron Blaise who created the design for the story's villain. "The quality bar was immediately set when I turned to Aaron. I have the utmost respect for Aaron as an artist, and as a person. His gracious contribution to this production is truly immeasurable."
Blaise, who was nominated for an Oscar for co-directing the movie Brother Bear "is also a friend," says Killian. "He is a super busy guy but he was gracious enough to donate his time to this project and help me tell the story. That was one of my favorite things, working with Aaron. I have such respect for him as an artist and a person. He's just a good guy. I'd look for any excuse to work with him again in the future."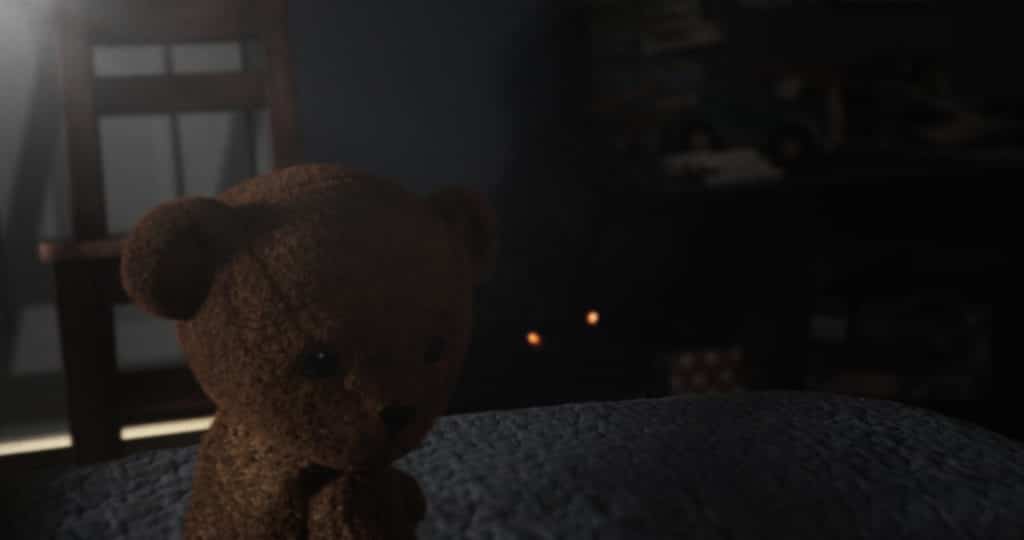 Dream Therapy
Another of Killian's inspirations was his six year old son, who also acted as an informal consultant. "I think we can all relate to childhood and being scared of the dark. My son has nightmares, so this was a way for me to talk to him about it. I showed him every stage of the production as we went along and it allowed him to face his own fears as we progressed. He became my best and worst critic."
Killian was particularly moved when he showed his son one shot where the creature gets backed into a corner, a shot his son had seen before. With the shot still in progress, the creature was missing the glowing eyes. "I showed it to him expecting him to say it looked scary, and instead he pointed out 'the eyes aren't glowing!' It became almost a therapeutic process, and it's very personal to me because of that."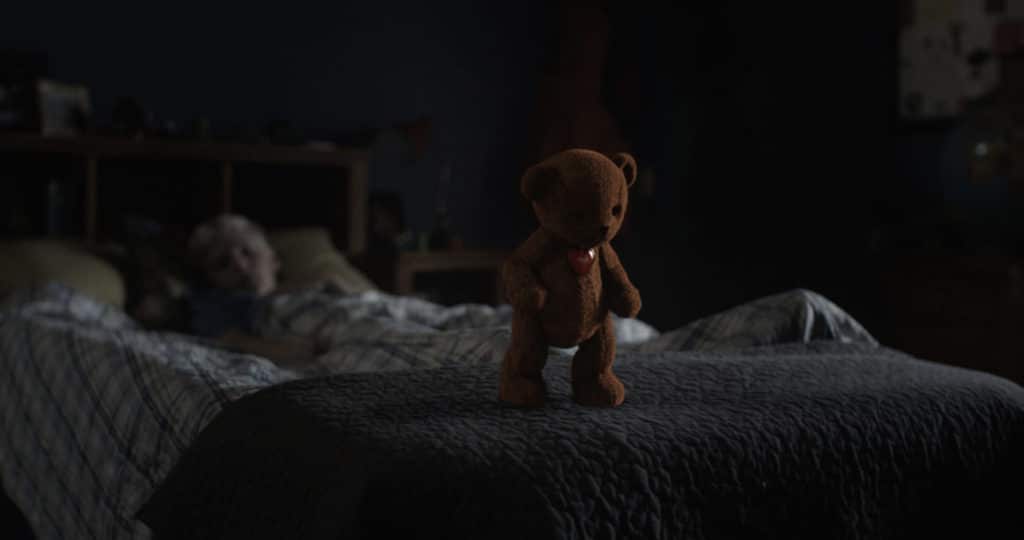 Telling stories is Killian's passion. "When I showed the animatic to the crew for the first time and I watched each of them have an emotional reaction to the story I created — that's what it's all about. It's immensely rewarding, more than any award or nomination. As a creative, it's always such a rush to receive validation from your peers for your hard work. But mostly, I'm proud to share the excitement with all those who collaborated in the creation of this production."
Gonzalez had a similar experience during one of the screenings. "At one point we were playing along with the ending. I could see the audience in the front starting to cover their face with their hands, worried about what was about to happen. When it came to the end, their faces lit up. This is what makes the work so valuable, is seeing the reaction of the fans, or maybe soon-to-be fans. What the students put in and what Matt put in definitely shows on this project."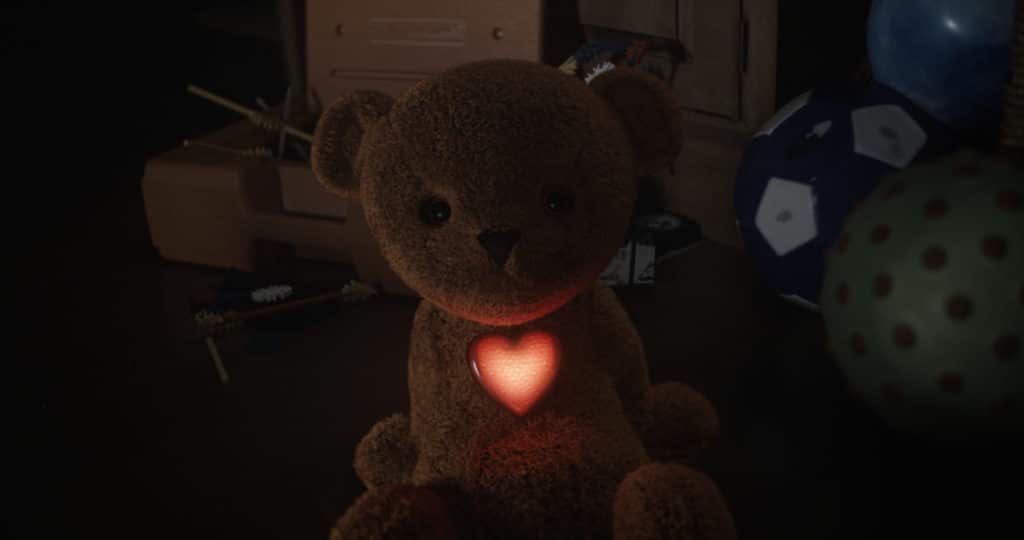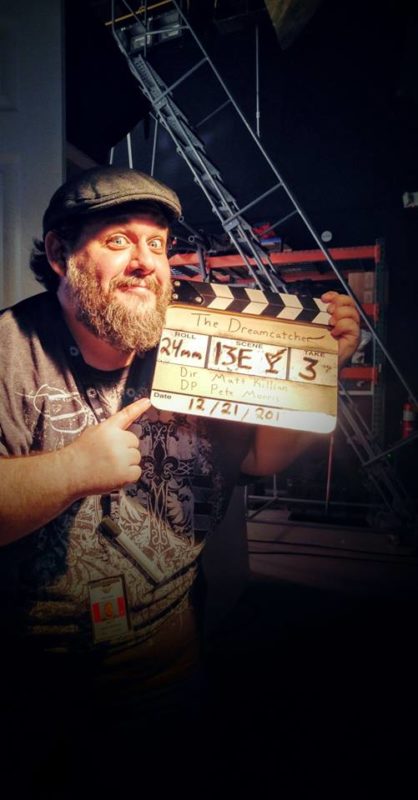 A Team Effort
"I can say honestly out of all the projects I've done, this is the one I'm most proud of because it feels like it's the one I have the most ownership over" says Killian. "It's completely original. We do a lot of fan films, building off of something other people have created, but this was completely from scratch. I have a lot of pride in that. I also have a lot of pride in the dedication of the people who worked on it. You really cannot make a movie by yourself. I can't express how important it is to have a good team behind you. Without that, there would be nothing.
"A director has a responsibility take credit when things go wrong, and to give credit when things go right."
Matt Killian, Writer / Director, The Dream Catcher
"Visual Effects are inherently difficult, sometimes impossible to get right. This film would be nothing without The DAVE School and the artists who contributed. Because filmmaking is such a collaborative art form, the honor of this nomination most certainly goes to everyone who contributed creatively to this production.
"It's a testament to the creative relationships we have, not only between Angel and myself as Producer and Director. Angel, in his own right, is a great storyteller. He understands the other aspects as well. The artists that worked on it, be it students or professionals, all gave 100%. That is all we can ask for. I'm just proud to be associated with them and I hope that I, as a Director, have made them proud to have worked on a cool project. Hopefully, maybe an award winning project."
Without hesitation, Gonzalez agreed. "I ditto everything Matt just said, I feel the exact same way.
"The team here at the school… the challenge is, we don't know the class that is coming in, and what they are going to end up producing", says Gonzalez. "It's always a shot in the dark. Matt just knew he had this cool project. I hoped they'd like it too, and they did. They took to it, they fell in love with it, and every student poured their heart and soul into the idea Matt created for them. It's a really great moment for those students to experience. I think some of them are working in the industry now, and are able to take this information and apply it to any idea they are working on."
So what does such stellar talent have in store next?
Killian perhaps said it best. "As always, we move on to the next one, hoping to meet and surpass the expectations set by its predecessors. I'm blessed to have such great opportunities to do what I truly love to do."
About The DAVE School
The DAVE School was founded on June 8, 2000 by two Industry executives looking to create #CareerReady artists with a practical animation school. Today, The DAVE School offers specialized training in Visual Effects and Game Production with extensive practice under industry level supervision.
Located on the backlot of Universal Studios Florida® in Orlando, The DAVE School has an 18,000 square foot facility that includes learning and interactive labs, a dedicated Virtual and Real-Time production stage, a Vicon motion capture system, 3D printing and VR/AR labs and secure student access 7 days a week.
NUC University (NUC) is an accredited institution and a member of the Middle States Commission on Higher Education (MSCHE) www.msche.org. NUC's NUC University – IBC Technical Division (NUC-IBC), NUC University – Florida Technical College (NUC-FTC), and The Digital Animation & Visual Effects School (The DAVE School) is included in this accreditation. NUC's accreditation status is Accreditation Reaffirmed. The Commission's most recent action on the institution's accreditation status on 2019 was to reaffirm accreditation. MSCHE is an institutional accrediting agency recognized by the U.S. Secretary of Education and the Council for Higher Education Accreditation (CHEA)